Products | Anticorrosive
Passivations and sealers
Glomax has always specialized in the production of passivations for zinc, for zinc and its alloys and related sealants and top coats.
Today the product line has been further refined and integrated to meet the needs and production changes of each industrial sector.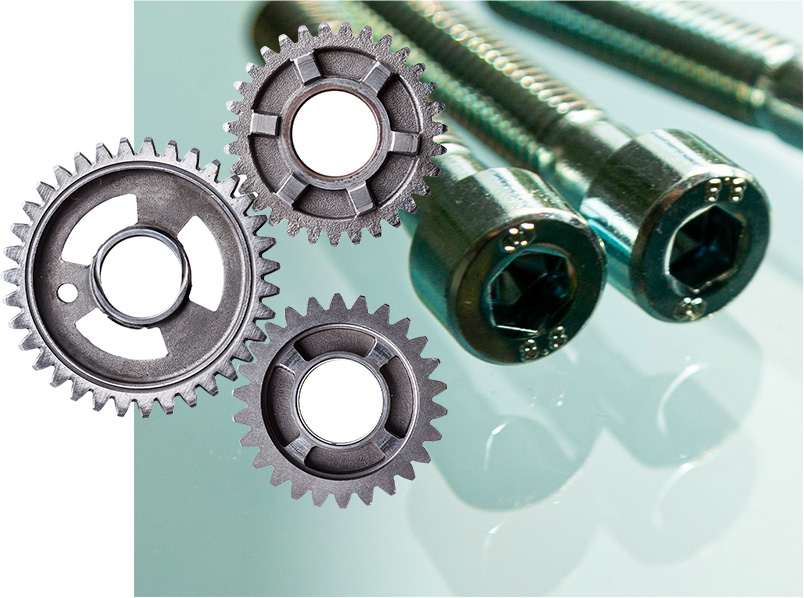 The treatments
This product line  includes:
Passivations for zinc
Passivations for zinc alloys
Sealants and top coats
Zinc Passivation
The line of passivations for zinc satisfies every finishing need and includes:
-The MAX BLUE light blue passivation (and the high-resistance version MAX BLUE HR) which allows to obtain blue chromic conversion films on the electrolytic zinc deposit obtained in an alkaline, cyanurate or acid environment.
This passivation works efficiently at low temperatures and in addition:
It does not contain hexavalent chromium
It has outstanding operating characteristics that make bathroom management very easy.
It is a suitable passivation in both static and barrel baths.
It can be easily started without aging with zinc powder
It guarantees long bath life thanks to its high tolerance to dissolved zinc and iron
–Iridescent passivations based on trivalent chromium including GLOMAX TITAN CO with high corrosion resistance; the trivalent cobalt-free passivation GLOMAX TITAN 335 and the trivalent chromium and silicon passivation GLOMAX TITAN 336, whose silicon nanoparticles within the passivation film give a high resistance to corrosion and self-healing properties of the surfaces of the treated parts.
Zinc Passivation
–Trivalent chromium based yellow passivation GLOMAX IRIDIUM, indicated in place of the classic tropical passivation, as it is able to produce the same aesthetic results characteristic of chromium VI finishings, and GLOMAX TITAN YELLOW, completely free of cobalt.
–The green passivation based on trivalent chromium GLOMAX GREEN, free of oxidants, to be used as a primer for painting and for rubber-metal attachment.
–The black passivation for alkaline zinc based on trivalent chromium GLOMAX BLACK OH AND the black passivation for acid zinc GLOMAX BLACK CL. Both treatments guarantee an excellent black finish and corrosion resistance even after thermal shock.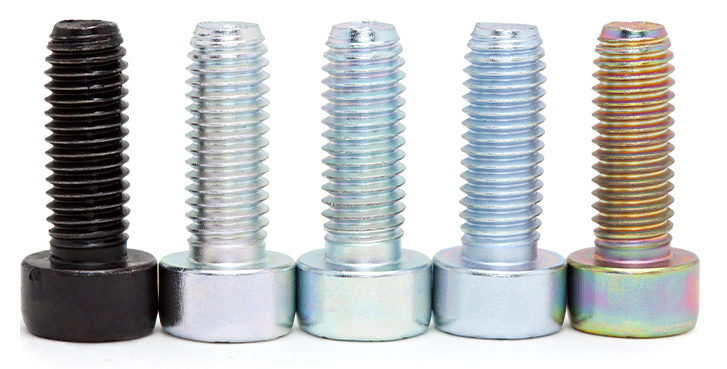 Zinc alloys passivations
Glomax product line dedicated to passivations for zinc alloys includes:
–Transparent passivations GLOMAX TITAN SILVER and GLOMAX TITAN 370, particularly suitable for zinc nickel deposits, both for static and barrel systems.
–Blue passivation GLOMAX TITAN 385, particularly suitable for zinc-nickel deposits, which allows to obtain a blue / violet conversion film.
Zinc alloys passivations
–Single-component zinc nickel black passivation GLOMAX TITAN BLACK 393, able to work efficiently at low temperatures, easy to control and which guarantees good resistance to corrosion even without applying a sealant and two-component black passivation for zinc nickel GLOMAX BLACK NI S.

Sealers
Sealants and top coats are generally applied to increase the corrosion resistance of previously galvanized and/or passivated surfaces and to adjust the friction coefficient.
Each sector has its needs, which is why Glomax has formulated a wide line of organic-mineral sealants, water-based, capable of meeting the various needs, not only in terms of resistance to corrosion but also in terms of friction and aesthetics. of the details.
ZINK PROTECTOR BETA is a sealant to be applied after passivation on galvanized parts in frame systems and does not require rinsing.
Being transparent it does not affect the color of the surface, but it greatly improves its appearance and increases resistance to corrosion.
Sigillanti e top coat
ZINK PROTECTOR OMEGA has been formulated to meet the standards of car manufacturers and can be applied to increase resistance to corrosion, both on parts treated by galvanizing and by zinc flake. It is applied by centrifuge.
ZINK PROTECTOR 1000 S is instead particularly suitable for those processes in which parts of iron surfaces remain uncovered (for example the internal part of the pipes). It is characterized by low viscosity and provides a very thin coating.
To control and maintain stable the coefficient of friction Glomax has formulated a dedicated line of sealants including ZINK PROTECTOR FC 8.14 and ZINK PROTECTOR FC 12.18 which control the coefficient of friction between 0.08 – 0.14 µm and between 0.12-0.18 µm respectively.
This line of sealants is also available in black and contains a UV tracer that allows detection by ultraviolet light.
Contacts
If you have any questions about our products and services or to receive a quote, please contact us or leave us a message. Our technical sales team will contact you as soon as possible.
You will receive an email confirming that your message has been forwarded.